10 Cast Iron Anchor Wall Hooks with Hardware brown rustic finish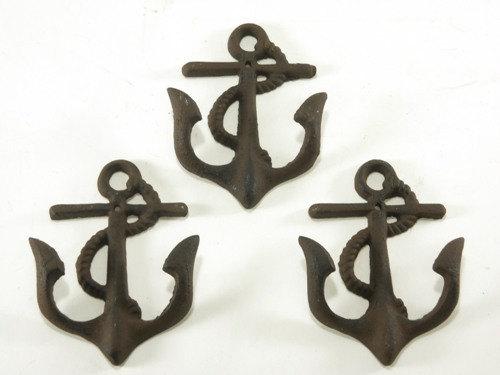 Designer: Carvers Olde Iron
$ 42.99
Home to Crafters and DIYs Everywhere! Plus tons of Cast Iron Home Decor
This is a new 10 piece cast iron anchor that can be used for decoration or put to actual use!

They are great to use in the bathroom or kitchen as towel holders and can also be used as a coat or hat hook.

They can be used on a boat for nautical decor and also on a boat dock or pier for decoration or to hang those towels on.

They are also great to use as curtain tie backs to accent your nautical decor.

These will look great at that house on the lake or the beach!

These anchors are raw unfinished cast iron and as such may have light rust on them.

They can be painted or left out in the weather and rusted.

The anchor measures 5 1/2" tall x 4 1/4" wide with one screw hole for attachment.

The two hooks protrude about 1" from the back plate.