2 Dragonfly Wall Hooks Cast iron for Kitchen, Bath, or outdoors.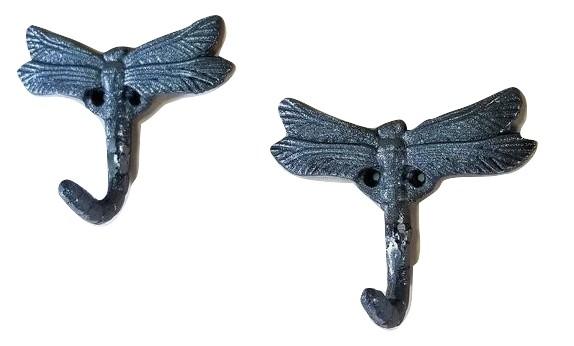 Designer: Carvers Olde Iron
$ 13.99
Home to Crafters and DIYs Everywhere! Plus tons of Cast Iron Home Decor
Clear cast iron gray finish
2 pc set weighs about 12 oz
solid cast iron construction
4 3/4 x 3, with mounting hardware.
    Something special about noticing little dragonfly wall hooks quietly gracing an entryway.    They could be holding keys, or caps, or jackets, or even leashes.     The fact that they are built out of solid cast iron just gives them that authentic vintage feel, though they are brand new.   They measure about 4 3/4 wide and 3 inches tall.   The hook part (the tail) stands out from the wall about 2 inches.      They are double clear coated to resist corrosion, but can be easily painted to match any decor.    Once you start placing them the fun begins.    Dragonflies should not be lonely.   Two look pretty cool, but six, oh my, nature in all her glorious profusion has decided to come inside and live on your wall.        To make things easier we even include complete mounting hardware.     Why not dress up your entryway, or your kitchen, or bathroom, pool, or anywhere you can imagine.     These truly can go anywhere.    Then think, what if I painted these in full color!      Stop!    Be still my beating heart!..............